The Deerfield River is 58 degrees!!!!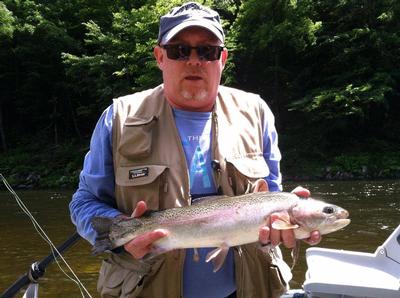 Weekly rainstorms have kept the reservoirs full of water, so daily water releases from the hydroelectric companies are keeping the entire Deerfield River at below average water temps. Here's what's happening:
Big hopper patterns tight against the bank are bringing fish to the surface early in the morning and later in the afternoon during sunny days.
Chucking streamers and throwing nymph rigs are keeping fish tight on the line during the brightest hours of the day.
Hatches are a little slim, but #18 caddis and #14 cahills are sporadically hatching throughout the day.
Rainbows, browns, and brookies are being brought to the net everyday.
August is sure to be a good month with these below after water temps, especially when the ant hatch begins. We're getting chances at big browns and rainbows in all stretches of the river, so don't be afraid to come fly fish the Deerfield River or Swift River in August.
Come join Square-Tail Anglers for a day, or two
on a fully guided fly fishing trip on the Deerfield River, Millers River, or Swift River.
Posted: to General News on Sun, Aug 3, 2014
Updated: Sun, Aug 3, 2014